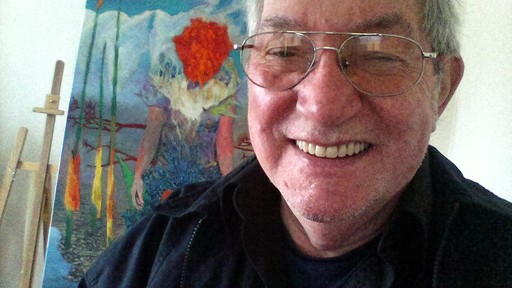 "Limburger create."
The town I grow up in Sittard the Netherlands, had a huge clay pit. We could go play and dig in the pit on the "Kollenberg" amidst the clay and sand. The local sculptor used these materials as well. From the age of 4, I started to create my own figures from the natural clay. Once in kindergarten, I got introduced to better sculpting clay that wasn't so sticky. At 16 years old, I saw amateurs painting at a local pitoresque spot. This inspired me to start painting.
I was born in 1944 in Heerlen the Netherlands, grew up in Sittard and at the age of 18 I left for Maastricht to join the "Stadsacademie Maastricht" artschool. I recieved the "Lucas Art Award" in 1965, graduated in 1967 and eventually moved to Roermond.
During my time living in Sittard and Maastricht, I started working as an Arts & Drafts teacher. I also started counseling and got a Social Degree by attending the Social Academie in both Den Bosch and Sittard.
As a teacher I covered subjects like, Crearive Expression, Arts & Crafts, Photogrphy, Audio - Visual Techniques, Technology & Economics and Social Skills. In my spare time I took further courses in Photography, Jewellery, Design, got a Postgraduete Degree in Audio - Visual Techniques and Cinematography in The Haque.
Thank you Anke.